The Effective Way To Analyse Your Opponent's Ranges
Meet Hand2Note 4's Most Advanced Tool: Multi-player Report
In a world now riddled with game theory solvers, how do professional poker players find a bigger edge and dominate the competition?
The answer is simple: Hand2Note 4 Multi-player Report. It's our most advanced tool used for analysing opponents' ranges and general field trends.
The Multi-player report scans your database and generates a report matching the specified parameters you have set – Allowing you to study the tendencies of specific types of opponents in all kinds of poker situations.
All high-stakes professionals among our users recognise Multi-player Report as the most powerful software for exploring their opponent's game. They use it to aid their solver studies and keep ahead of the competition.
If you have never used Multi-player Report, you cannot imagine how useful it can be to you.
Let me show you how it works.
(Note: For Hand2Note 3 users, this is Hand2Note 4's version of Range Research. It still works the same. Technically, it's faster, but it looks a little different.)
How to use Multi-player Report?
Before you launch into Multi-player Report, you will need a large database of hands.
It can still be valuable to run the analysis with a small sample, but you want a larger sample size for a more reliable result.
Start by clicking on the Statistics tab.
This screen will appear: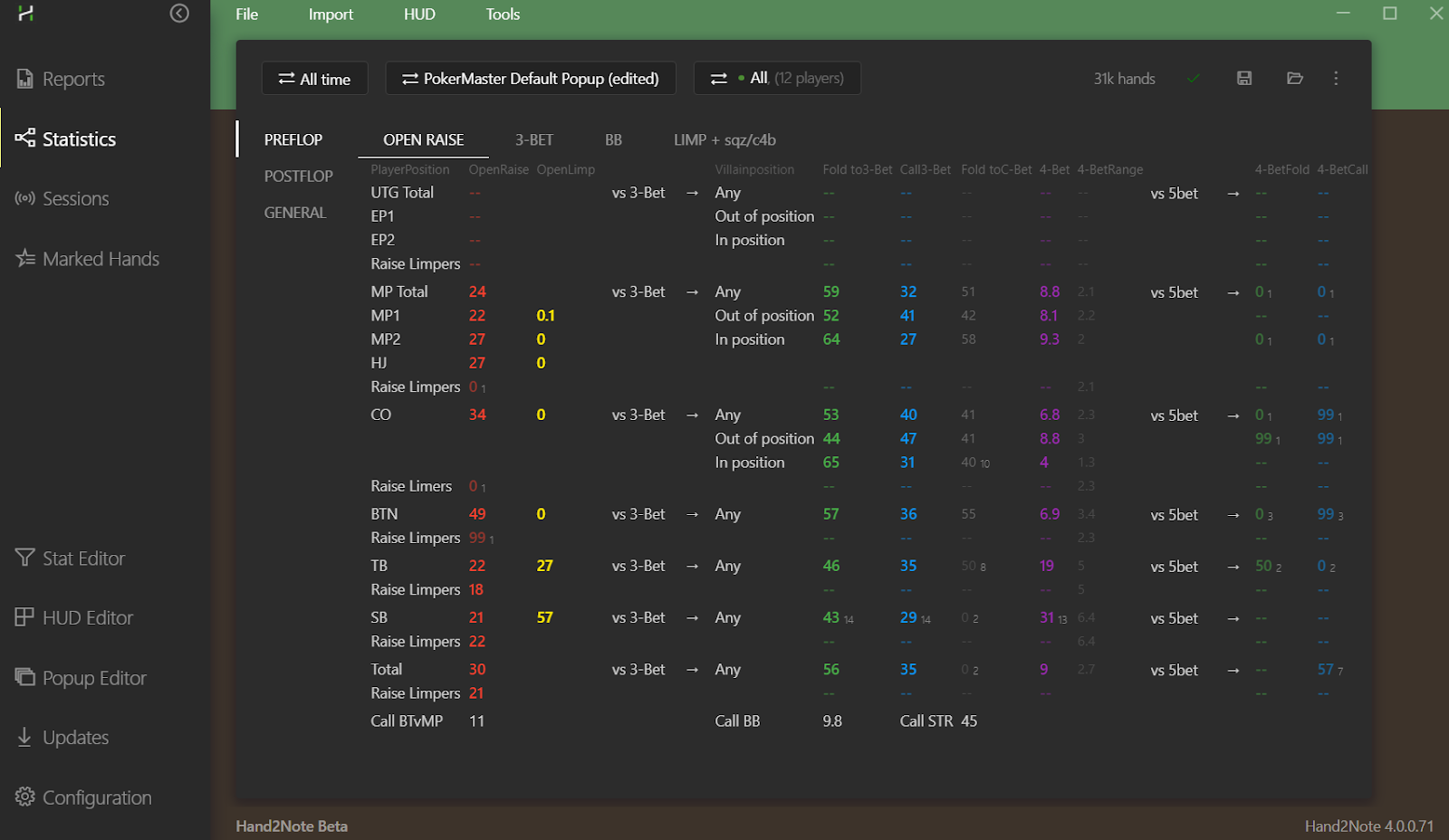 Then you want to click on the Switch Players tab.

Select the Multiple Players tab.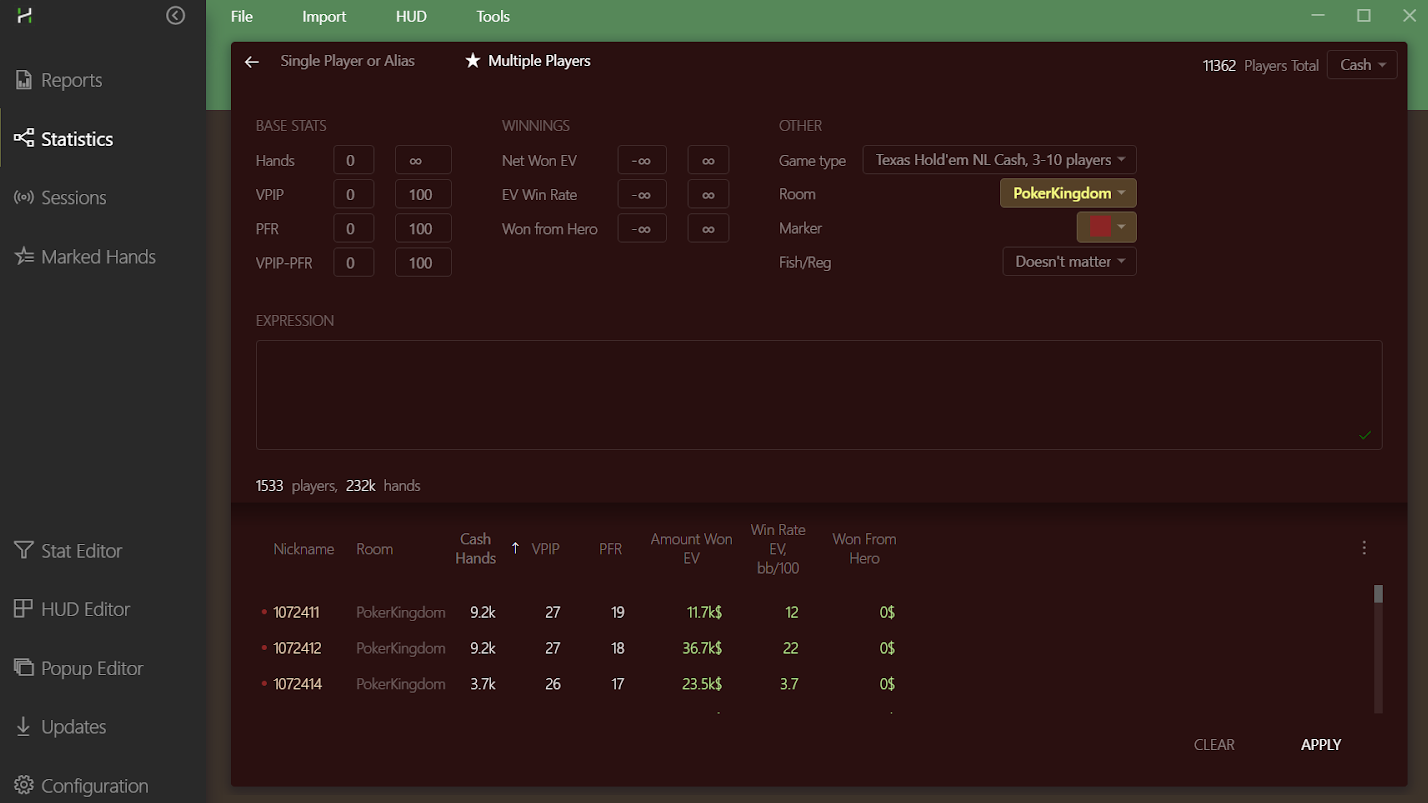 Whenever you run a Multi-player report, you want to think about the scenario you want to analyse so that you can set the right parameters.
In this case, I'm interested in exploring the betting ranges of good regs who have called my open, and I have checked to them as the pre-flop raiser in the poker room of PokerKingdom.
Select what game type you usually play. For this analysis, it will be Texas Hold'em NL Cash 3-10 players.
Change the room to PokerKingdom.
There are a few ways in which we can study "good regs" on PokerKingdom. You can either enter the VPIP and PFR of a good reg. Or if you have a diligent colour tagging system, you can use that too.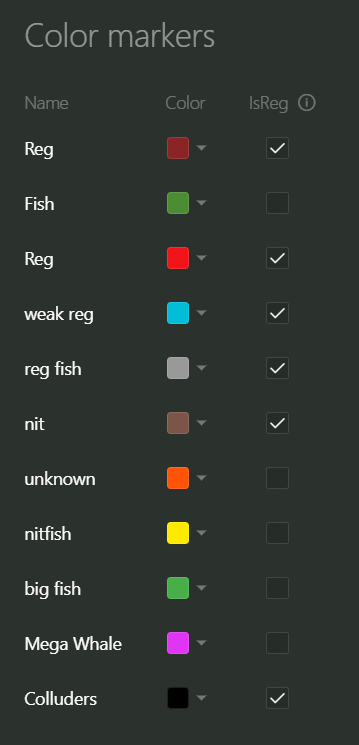 When you have a good colour tagging system, you don't need to spend time trying to figure out which Base Stats to enter in.
Once you've filled all that in, click Apply in the bottom left corner.
Depending on how big your database is, this could take a while. Hand2Note will build the report using your popup editor.
Once Hand2Note finishes the report, this is what it looks like: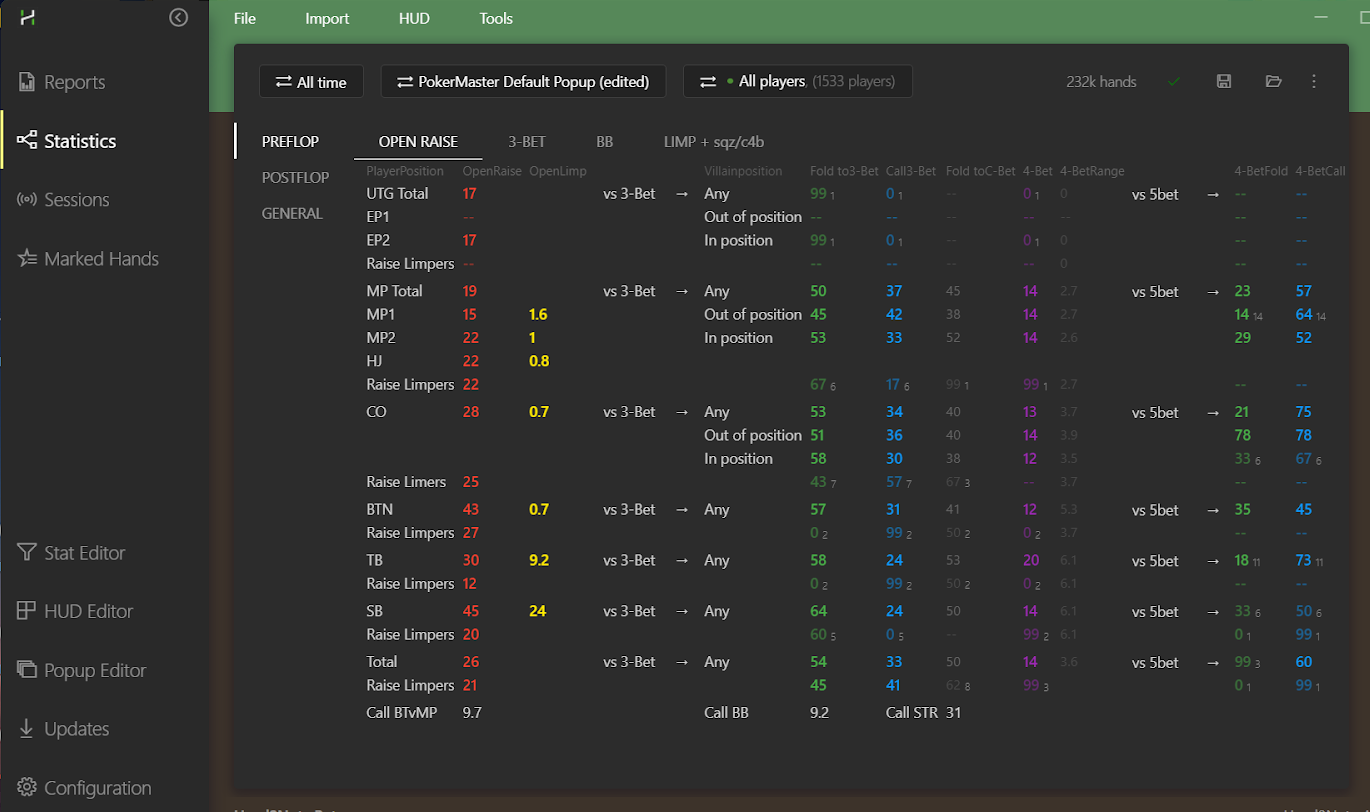 The values in the above image are the population-specific averages – in other words, the average stats of good regs on PokerKingdom.
Because I'm looking to see what kind of hands, in general, good regs are betting in position in Pokerkingdom, I want to click on the Preflop Caller tab and then loot at the stat vs Missed C Bet > Bet IP.

Hand2Note tells me 43% of the time, good regs stab IP. Of that 43%, 56% of the hands are bluffs.
Drawing hands fall into the category of bluffs. However, if I click on the 56%, Hand2Note will show me how wide their bluffs are: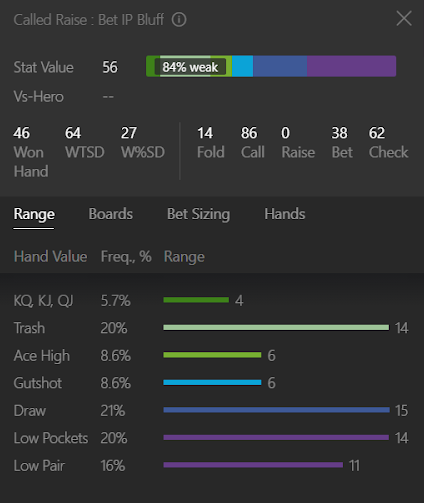 Only 29.6% (Draw = 21%, Gutshot 8.6%) of the time, it's a viable draw. 71.4% of the time, their range is weak (King High, Trash, Ace High, Low Pockets and Low Pairs).
Knowing this, I can make a note of this and construct a more aggressive check-raising range or check-call wider.
If you've never experienced Multi-player Reports, it's hard to imagine just how powerful the tool can be, and how much of an edge you will develop.
If you don't have access to the EDGE or PRO subscription, click the link below to unlock your account to use Multi-player Reports and start crushing your opponents today.